Coweta County, GA Termite & Pest Control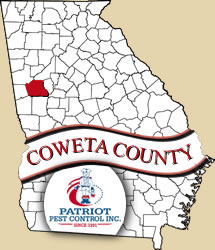 We have had the pleasure of serving the Coweta County area since 1991.
Patriot Pest Control, Inc.
Newnan, Georgia
(770) 251-7410
Newnan also is known as the City of Homes. We have lots of wonderful shops and restaurants to choose from. The cities in Coweta County include Sharpsburg, Peachtree City, Newnan, Grantville, Palmetto, Senoia, Turin, Raymond, Roscoe, and Corinth.
Give us a call today to help you protect your home or business from pests and termites.


Pest Control Expertise Throughout Central Georgia
Headquartered just south of Atlanta, Patriot Pest Control is poised to respond to your pest and termite control needs anywhere in the following communities:
Pest Control in
SPALDING COUNTY
(770) 229-5445

East Griffin
Griffin
Orchard Hill
Sunnyside

Pest Control in
HENRY COUNTY
(678) 588-1717

Flippen
Hampton
Kelleytown
Locust Grove
Luella
McDonough
Ola
Stockbridge

Pest Control in
BUTTS COUNTY
(770) 775-1371

Flovilla
Jackson
Jenkinsburg

Pest Control in
LAMAR COUNTY
(770) 358-4332

Aldora
Barnesville
Milner

Pest Control in
TROUP COUNTY
(706) 882-9886

Hogansville
LaGrange
West Point
Mountville
Harrisonville

Pest Control in
COWETA COUNTY
(770) 251-7410

Newnan
Grantville
Haralson
Moreland
Palmetto
Sargent
Senoia
Sharpsburg
Turin

Pest Control in
PIKE COUNTY
(770) 567-8043

Concord
Meansville
Molena
Williamson
Zebulon